Ready to transform your client's LinkedIn presence?
We have seconds to make a great first impression. What impression is your client's LinkedIn profile making right now?
Is it helping your clients to be known, remembered and chosen by more people in your target market?
Whether you and your clients are looking for new customers, new contracts or opportunities, your audience are looking for you online. If you cannot be found and get lost in the crowd, how will they know how perfect you are for them?
LinkedIn is the largest professional social network and a publishing platform among other things, and is the go to tool for many professionals. A well-written profile will show up on Google and could even out-rank your website.
I'm Jo Saunders, known as the LinkedIn Demystifier, a leading LinkedIn expert in Australia. I guide professionals and organisations in setting up and using tools such as LinkedIn effectively and efficiently, with personality, and have been actively learning and teaching LinkedIn since 2010. Connect with me: http://www.linkedin.com/in/josaunders

You are invited to join the LinkedIn Transformation Program
I have trained thousands of people in how to set up and use LinkedIn through mentoring, and workshops. This online course brings the training to anyone, anywhere at an affordable price.
Is this program for you?
Do you want to...
... build and boost your personal brand?
... be the go-to-expert in your field?
... take up the first page go Google results?
... attract more leads and opportunities?
... be known remembered and chosen?
If you answered yes to more than one of these questions, have some time and are ready to invest in yourself, then lets get started!
If you want all this but have no time, then chat to me about my other profile building, mentoring and management services.
How is the program structured?
The program is split into bite sized chunks with actionable tasks, with the view that at the end of the program you will not only have an up to date professional profile, but will have a plan to remain visible, memorable and top of mind. Even a professional with an All Star Profile will learn new things.
The program includes
12 comprehensive Lessons, with video, slides, worksheets and templates to work with your preferred learning style.
Access to the course community to ask those curly questions, during and after the course
Live webinars and bonus content
Lifetime access to the course content
Updates and extras as LinkedIn evolves
PROGRAM FORMAT

The aim of our program is to take you through the following stages;
INTRODUCTION
LESSON 1 – PURPOSE & DIGITAL FOOTPRINT ESSENTIALS
LESSON 2 – SUMMARY FORMULA
LESSON 3 – EXPANDING YOUR STORY
LESSON 4 – SOCIAL PROOF
LESSON 5 – GOAL SETTING & PLANNING
LESSON 6 – CONNECTION STRATEGY AND MANAGEMENT
LESSON 7 –

CONTENT STRATEGY

LESSON 8 –

COMPANY PAGE AND AD STRATEGY

LESSON 9 –

GROUP STRATEGY

LESSON 10 –

COMMUNICATION STRATEGY

LESSON 11 –

3RD PARTY TOOLS

LESSON 12 –

PERFORMANCE METRICS, REVIEW AND PLANNING - WHAT NEXT

SUMMARY – WHAT NEXT, PRIVACY AND AUDITING
Who is this program for?
The program is suitable for business owners, consultants, marketing staff and business development managers, and staff. Any professional can benefit from this program.
Previous students include;
Speakers, trainers, business coaches, real estate professionals, property experts, legal and financial services, virtual assistants, graphic designers, copywriters, marketing managers, photographers, authors and many more.
Ready to get started?
I look forward to helping you transform your profile into a personal landing page to showcase your talents and expertise, and build an online profile that increases your profits and brings you opportunities.
START NOW...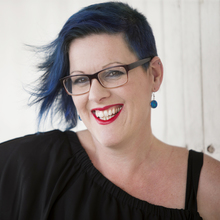 LinkedIn Demystifer
Jo Saunders
Jo Saunders is a personal branding and content marketing consultant and educator known for demystifying LinkedIn. She is passionate about inspiring individuals and organisations to use social media tools to connect and communicate effectively and authentically, to build relationships and attract opportunities.Connect: @JoSaundersAUhttps://au.linkedin.com/in/josaundershttp://www.wildfiresocialmarketing.com
1

Introduction to the Program

Where does your LinkedIn Profile rank in Google right now?

What are your biggest LinkedIn frustrations right now?

Capture your current profile

2

Lesson 1 - Purpose, Foundations and ROI

Digital Footprint Foundations Overview

Purpose, Foundations and ROI of LinkedIn

Values - Vision - Voice Worksheet

The importance of your Headline on LinkedIn

LinkedIn Headline Hacks eBook

UPDATED - LinkedIn Profile Worksheet

Lesson 1 Action and Overview

3

Lesson 2 - The 7 Step Summary Formula

7 Step Summary Formula Overview

Lesson 2 - Summary Introduction

Adding a Summary - The Power of First Person

LinkedProfile - Worksheet B

7 Step Summary Formula Overview

7 Step Summary Formula in Detail with Examples

Summary - Live Walk Through and Examples

NEW - The Summary - how to create

4

Lesson 3 - Expanding Your Professional Story

Expanding Your Story Overview

Lesson 3 - Positioning and Connecting the Dots

Experience - Current Roles

Experience - Past and the Mobile App

How to Showcase Your Expertise Through Publications

Projects and Collaboration

Memberships, Volunteering and Professional Development

Education, Achievements and Additional Info

Lesson 3 Overview and Action

5

Lesson 4 - Social Proof and Metrics

Lesson 4 - Social Proof Introduction

Social Selling Index (SSI) - What is yours?

​What is your current SSI?

Recommendations, Endorsements and How to Manage Them

Managing your Footprint, Profile Views and Privacy Settings

Lesson 4 Overview, Metrics and Action Plan

6

Lesson 5 - Social Triggers

LESSON 5 – GOALS, PLANNING & ACTIVITY

Social Metrics, Social Triggers and Planning Your Action

7

Lesson 6 - Connection Strategy and Management

LESSON 6 – CONNECTION STRATEGY

Lesson 6 - Connection Strategy and Management

Connection Strategy eBook

8

Lesson 7 - Content Strategy

LESSON 7 – CONTENT STRATEGY

Lesson 7 - Content Strategy - Planning, Publishing & Repurposing

Content Strategy Worksheet

Publishing and Repurposing eBook

9

Lesson 8 - Company Page and Ad Strategy

LESSON 8 – COMPANY PAGE STRATEGY

Lesson 8 - Company Page and Ad Strategy

10

Lesson 9 - Group Strategy

LESSON 9 – GROUP STRATEGY

Lesson 9 - Selecting, Managing and Engaging in Groups

11

Chapter 10 - Communication Strategy

LESSON 10 – COMMUNICATION STRATEGY

Lesson 10 - Engagement, Connection Management

Relationship Building List

12

Lesson 11 - 3rd Party Tools

LESSON 11 – 3RD PARTY APPS

Lesson 11 - 3rd Party Tools

13

Lesson 12 - Performance Metrics, Review and Planning

LESSON 12 – PERFORMANCE REVIEW

Performance Metrics Overview

Weekly Action Plan Template

Daily Action Plan Template

LinkedIn Profile Audit details

How Often Will You Back Up?

Creating Social Media Guidelines

14

SUMMARY - What Next, Privacy and Profile Auditing

LinkedIn Privacy and Settings Overview
Pricing options
Explain how different pricing options might be valuable to different segments of your audience.