Ready to transform your LinkedIn presence?
You are invited to join the LinkedIn Transformation Program - Profile Building course
We have trained thousands of people in how to set up and use LinkedIn through mentoring, and workshops. This online course brings the training to anyone, anywhere at an affordable price.
The program is split into bite sized chunks with actionable tasks, with the view that at the end of the program you will not only have an up to date professional profile, but remain visible, memorable and top of mind. Even a professional with an All Star Profile will learn new things.
PROGRAM FORMAT
The aim of our program is to take you through the following stages of profile building;
INTRODUCTION
LESSON 1 – PURPOSE & DIGITAL FOOTPRINT ESSENTIALS
LESSON 2 – SUMMARY FORMULA
LESSON 3 – EXPANDING YOUR STORY
LESSON 4 – SOCIAL PROOF
SUMMARY - GOAL SETTING & PLANNING
It includes a range of templates and ebooks, including our signature 7 Step Summary Formula, Headline formulas, and a Profile audit you can conduct yourself.
Join our Facebook group to learn more, compare notes and seek feedback.
I look forward to helping you transform your profile into a personal landing page to showcase your talents and expertise.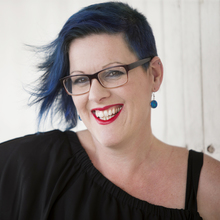 LinkedIn Demystifer
Jo Saunders
Jo Saunders is a personal branding and content marketing consultant and educator known for demystifying LinkedIn. She is passionate about inspiring individuals and organisations to use social media tools to connect and communicate effectively and authentically, to build relationships and attract opportunities.Connect: @JoSaundersAUhttps://au.linkedin.com/in/josaundershttp://www.wildfiresocialmarketing.com
1

Be Found - Be Remembered - Be Chosen

Where does your LinkedIn Profile rank in Google right now?

The Mission - What is Yours?

What are your biggest LinkedIn frustrations right now?

2

Lesson 1 - Purpose, Foundations and ROI

Digital Footprint Foundations Overview

Purpose, Foundations and ROI of LinkedIn

The LinkedIn Profile Foundations

Values - Vision - Voice Worksheet

The importance of your Headline on LinkedIn

LinkedIn Headline Hacks eBook

LinkedIn Profile Blueprint Worksheet

Lesson 1 Action and Overview

3

Lesson 2 - The 7 Step Summary Formula

7 Step Summary Formula Overview

Summary Teaser Examples -character/word count

Lesson 2 - Summary Introduction

Adding a Summary - The Power of First Person

7 Step Summary Formula Overview

New 7 Step Summary Formula

7 Step Summary Formula in Detail with Examples

Summary - Live Walk Through and Examples

4

Lesson 3 - Expanding Your Professional Story

Expanding Your Story Overview

Lesson 3 - Positioning and Connecting the Dots

Experience - Current Roles

Experience - Past and the Mobile App

New - Skills - Expertise vs Delivery Method

Education, Achievements and Additional Info

How to Showcase Your Expertise Through Publications

Projects and Collaboration

Memberships, Volunteering and Professional Development

Lesson 3 Overview and Action

5

Lesson 4 - Social Proof and Metrics

What Metrics Matter to You?

Lesson 4 - Social Proof Introduction

Social Selling Index (SSI) - What is yours?

​What is your current SSI?

Recommendations, Endorsements and How to Manage Them

NEW - 3 formulas to track

Visibility Formula Components

Influence and Engagement Components

Managing your Footprint, Profile Views and Privacy Settings

Lesson 4 Overview, Metrics and Action Plan

6

Summary - Goal Setting and Planning

New - Social Business Roadmap Example

LinkedIn Privacy and Settings Overview

LinkedIn Profile Audit details

Weekly Action Plan Template

Daily Action Plan Template

How is your LinkedIn profile now?